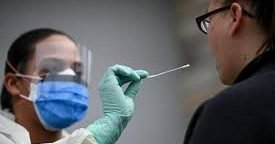 Apparently, if you buy the COVID-19 official narrative, all 50 states are seeing a rise in cases.  But the most important news is that more are also locking down in an attempt to finish off what's left of the middle class.
Minnesota Governor Tim Walz plans to announce new COVID-19 restrictions today amid a "surge in statewide infections", possibly including stricter rules for bars and restaurants. In Illinois, stricter coronavirus restrictions will go into effect Wednesday for some suburban counties. "The virus is winning right now," Governor J.B. Pritzker said on Twitter. The governor also hinted at a possible stay-at-home order as the Thanksgiving holiday approaches.
3 Illinois Regions to See Tier 2 Mitigations Begin This Week, Gov. Pritzker Announces
California Governor Gavin Newsom noted that the fall "twindemic" means more people coming into hospitals with flu-like symptoms as people start to move indoors, with temperatures going down. He described this as California's second wave of COVID-19, though it's being called the third wave in other parts of the country.
Newsom said to expect a number of counties becoming further restricted as of Tuesday, announced in the weekly Tuesday update from state Health Secretary Dr. Mark Ghaly, thanks to case rates ticking up. There are currently 10 counties in the most serious purple tier, 20 in red, 19 in orange, and 9 in the least restrictive yellow tier.

Ghaly said that there will potentially be no counties moving forward toward lower restrictions, while several counties are expected to move backwards into greater restrictions. –LAist
Utah has imposed a statewide mask mandate and other states and counties are considering "measures" to keep the case counts from rising. The state of Colorado continues to say that another statewide lockdown is unlikely, however, stay aware of this as well. They could change their mind.

This coronavirus scamdemic is far from over. We warned people to not be distracted by the election. It looks like we are on a path of this getting much worse, more draconian, and restrictive as of right now. Stay alert and prepared. With the vaccine soon to be rolled out, things are looking bleak.

[DISPLAY_ULTIMATE_SOCIAL_ICONS]