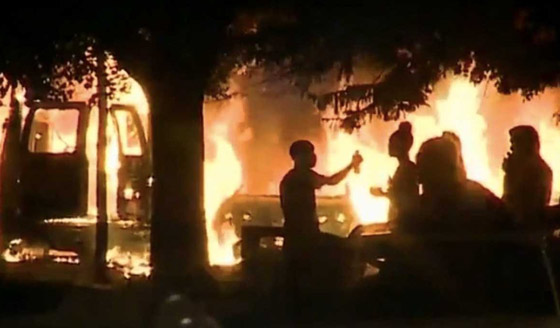 The election anger has begun. In a fight outside of the White House after the elections, four "Trump supporters" ended up stabbed.  Or is this just a false flag to rile up the already divided populace and cause more chaos? You decide.
Three men and a woman, who identified themselves as supporters of Donald Trump, have been taken to hospital with non-life-threatening knife injuries, according to a report by RT. We were promised violence in the past several months leading up to the vote.  It looks like it's started.
It isn't clear if the fight that resulted in the stabbing occurred in connection with a protest rally staged in front of the presidential residence on the election night. The scuffle happened near the intersection of 14th Street and New York Avenue Northwest around 2:30 a.m. EST, police reported. Law enforcement is now looking for three suspects over the incident.
Stabbing: 1400 b/o New York Avenue, NW. LOF: Lookout is for Suspects (1 & 2) B/Ms wearing all black clothing and Suspect (3) B/F wearing black sweatpants w/ white stripe, orange leggings and a dark gray coat armed with a knife

— DC Police Department (@DCPoliceDept) November 4, 2020
The victims said they were members of the Proud Boys, a right-wing pro-Trump group. The police said the suspects may be part of the Black Lives Matter (BLM) movement, according to CBS affiliate WUSA9.  However, a Twitter account for Black Lives Matter angrily rejected this, saying it was a lie and that outlets reporting it were "doing irresponsible dangerous journalism". And admittedly, that's what mainstream media has become.
.@wusa9 this is a LIE! You all are doing irresponsible dangerous journalism. @Mvmnt4BlkLives or @DMVBlackLives have nothing to do with these stabbings. Shame on @ChiefNewsham @DCPoliceDept sharing false information. This story need to be retracted. https://t.co/HgghAZXDhL

— Black Lives Matter DC (@DMVBlackLives) November 4, 2020
Right-leaning website the Gateway Pundit reported that one of the victims was Enrique Tarrio, the chairman of the Proud Boys. He told the outlet that his stomach was slashed during the altercation. Conservative activist Bevelyn Beatty was also stabbed during the altercation, according to the site.

"We were helping some guy that was getting stabbed by two black males and one female. Bevelyn got stabbed as well as two Proud Boys and the guy they were attacking. I got slashed, but it's not serious. We were walking to our cars," Tarrio explained.

No arrests have been made at this time. Beatty has already been mired in controversy when the activist previously was shown repeatedly painting over the Black Lives Matter state-sponsored graffiti in New York City.

A video purportedly showing the fight and its immediate aftermath, including the arrival of a police patrol, is circulating on social media. The party that shot the video can be heard in it claiming they had been "jumped by Black Lives Matter" and discussing the injuries their members sustained.

The mainstream media has been known to lie to foment division and hatred and bring about the chaos the elitits have alredy promised us. But Black Lives Matter has not, historically, been a peaceful group of protestors either. Take these media stories with a grain of salt. And the best thing to do is to  please stay out of this type of "protest" and stay safe.

[DISPLAY_ULTIMATE_SOCIAL_ICONS]